"Na Tems help Wizkid; Na Burna help Asake; if not for feature , who be BNXN?"
You've heard this and other variations. Sometimes it sounds ridiculous and often sparks arguments. But then, it all boils down to the fact that as humans, it is impossible to do anything in life without communication and collaboration. We will always need something that someone else has, and to get that, we need to work together with hopes of achieving the same goal and music collaboration is precisely like that.
In this article, we talk about seven reasons why you need to connect with more people in the music industry and collaborate to make those excellent tracks that may put you on the international map.
What Is Music Collaboration?
Music collaboration is all about the connections and relationships built around artists and everyone else in the music industry, coming together to work on a track or more to attain maximum profits and benefits. These benefits could come in different forms like fame, wealth, a larger fanbase, and many more. As an artist in the ever-growing music industry, you must meet with other key members in the music business as you.
Collaboration is more than making music with other musicians. To better understand music collaboration, think of an artist like Ruger. Although he's had no features since he came on board, that doesn't mean he hasn't collaborated with other stakeholders in the industry. He's worked with producers, videographers, vixens, promoters and lots more.
Reasons Why Collaboration Is Important For Musicians
Many artists start their careers alone, mostly in their home or wherever they call it — gutter, trenches, bottom, street, grass; if financially capable, they begin their career in a recording studio. 
However, producing a track and promoting the brand takes more than just a singer or a songwriter. Especially if you're an independent artist, you need more than just yourself to make it in the industry— several vital actors in the music industry must be on deck in the road to success.
So, here are reasons why you should engage in collaboration :
1. Discoverability
One of the many key reasons why collaboration is important to you is to increase the chances of being found. Every musician wishes to perform on large stages and in crowded stadiums, hearing their fans sing along to their songs. For this reason, music collaboration is a key more fans can look into your past works and get to know you better. Think of Fireboy after Peru Remix with Ed Sheeran. He became so popular in the UK people started to search for him. Also, record labels, managers, scouts, and producers can discover you with the hope of signing you into rewarding contracts that will boost your success in the music industry.
2. Exposure
Here, the famous Nigerian singer and songwriter, Tems, is an excellent example. Having featured in Essence, along with the Grammy-nominated artist Wizkid, Tems became an overnight international artist. She collaborated with famous artists like Drake, Future, and many others. Therefore, it is essential to collaborate with other artists for more exposure to your brand. Their fanbase may trickle into yours if they love your take on a track, and exposure brings in the deals from major record labels. 
3. Increase Your Streams 
Sometimes, all you need is that feature with an artist who has a large fanbase and has tracks on playlists on popular streaming platforms like Apple Music, Spotify, and YT Music. Think of Portable Dr. Zeh. His currently most streamed track is that one with Olamide. Leveraging the influence of other artists can just be the recipe you need to increase your numbers. It can also help you appear on more playlists.  Appearing on playlists in a streaming platform can boost your recognition as your songs can be recommended to the listeners.
4. Influence and Street Credibility
There is no end to being a musician and if you have been in the music industry for a long time, you will realize that there will always be new things to try, new artists to perform with, and new trends to jump on. Artists like Beyoncé, (Queen Bee), having being a renowned and respected musician in the global music industry featured Africa's own legendary artist, Wizkid and that isn't all, the classic and revered Madonna featured Fireboy DML on the remix of her trending TikTok single "Frozen". Collaboration gives you that credibility and influence in places where your featured artists already have influence.
5. New Sounds And Techniques
Collaboration increases your range and opens you to new sounds and techniques. Over the years, we have heard different types of sounds and genres from various artists, broadening the listeners' tastes and preferences. As a musician, it is advisable that you do not stick to one box. Music collaboration forces you to leave their comfort zone and try new genres. 
Collaborations open your eyes and ears to new ideas and sounds that can make you a versatile artist.  Chris Brown, a Soul, RnB, and Pop artist slowly becoming an Afrobeats adoptee by collaborating with Afrobeats artists like Lojay, Davido, Wizkid and recently, Fireboy. This is not limited to collaborating with artists. Collaborating with new producers can also open you to new ways to deliver your songs more beautifully.
6. Improve your Networking Skills 
If you're the introverted type, seeking collaboration helps you to improve your networking skill. Networking is a great deal in many aspects, but in the music industry, everyone needs to network to take their brand to the next level. With apps like Instagram, Twitter, Facebook Messenger, Skype, and many more, it is easier to meet new and different people around the world to collaborate. You can also meet music marketers promoters willing to work with you because they dig your sound.
However, before you get along with people in the industry, you need to showcase a good and respectable personality. Your behaviour towards other artists and other industry stakeholders can determine how they will refer you to other artists that might lead to you being signed by the appropriate record labels. By working with different people, you learn the ropes of communication within the industry and that helps you to become smarter with the kind of network you build. 
7. Becoming A Better Musician
 Becoming a better musician is a lifelong journey which every artist must take. Collaborating with different producers, A&R, promoters, managers, lawyers, songwriters gives you room for growth. As you work with them, you get feedback that helps you shape your sound, strategy and attitude.  As a musician, when collaborating, it is important to detach sentimentality from your works, so it is easier to accept criticism no matter how positive or negative it may be. Also, be level headed yet definitive of where you want to be as it would help you get far in the industry.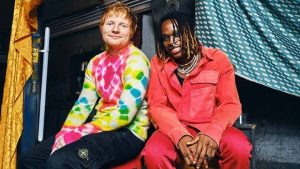 Things to consider when collaborating
Collaboration can be hard and might seem like a waste especially with the wrong partner.  To ensure success with your collaboration consider the following:
Finding The Right Partner
When looking to collaborate, be sure that you know what you are lacking. If you're collaborating with an artist, consider what mutual benefit is in it for you. Their new sound? Their fanbase? Your unique delivery? How does the collaboration increase your numbers?
Also, if you're collaborating with a producer or a vocal crew, consider the unique element they bring into your song that would make it successful. 
Lookout for artists outside your niche or country
In this internet age, it's easy to collaborate with anyone without having to meet each other. Look for other independent or signed artists outside your country, build a relationship with them, then send a proposal for collaboration. This is a great way to  improve your reach
Collaborating with an artist, a manager, producer, label or music promotion agency that doesn't share the same goal with you will only lead to failure and the production of a terrible track. On music collaboration sites such as SoundCloud, you can find many artists willing to discuss and collaborate with anyone ready for them to have the "hit track". However, if your goals are not adequately explained to each other, you may both end up wasting time and resources trying to create magic. Trying to achieve different goals in one partnership may create animosity between the involved parties
Conclusion
Music collaborations are a necessary part of staying relevant in the music industry, meeting with different skilled people who can help in more than just making a fantastic track but also promote your brand as an artist and expand your fanbase. Thanks to the digital age, collaborations have become easier with artists from continents and countries apart. You must open up because you never know what collaboration may be the one that makes you a successful musician.