Over a month ago, Ayra Starr released her highly-anticipated album, 19 & Dangerous, the youngest ever Nigerian female act to do so.
The Concept
It's oddly satisfying when you think about the choice of title the Mavin signee made. Dangerous.
This is reflective of cultural underpinnings. A young lady who is confident enough to make decisions and trust her intuition, unapologetically speak for herself and recognize her worth is considered a misnomer almost everywhere in the world— dangerous. It hits different in our patriarchal society where women are made to wallow in silence. To relegate their own thoughts. To doubt their own intuition.
Although the trend is getting different with consequences-be-damned Gen Z folks like Ayra Starr wearing their fire on their sleeves and making their voices heard. Talk about the Sọ̀rọ̀ Sókè generation. She exudes all manner of confidence, mixed with playfulness despite ignorance and vulnerability. This album is a testament of feminine independence.
"Life is not problematical, we make it problematical because we all listen to someone else, to something…without listening to ourselves…"
This excerpt from an Eartha Kitt interview is a powerful opener. It gives a solid background to the empowering tone of the album and the essence of the album. "19 & Dangerous"
In this album, Ayra Starr is able to project diverse emotions and subjects in an eclectic style which makes this project multinational and multigenerational. She talks about youthfulness, love, emotional instability, fashion, beauty, self worth, and imbues a sense of empowerment in her lyrics. She also shows off stylistic diversity by shuffling between r&b, afro-fusion, and rap.
Also, it is tempting to indulge in comparisons with the way this album is structured. In a way, we could liken it to Adele's diaristic albums— 19, 21 & 25— with a mix of exuberance and sensual indulgence. More strikingly, we could compare it to Rihanna's "Good Girl Gone Bad" which was also released when the act was 19. That there is a similarity isn't a surprise since Ayra Starr is admittedly an ardent Rihanna fan. We could also liken the voice type on slow songs to that of her contemporary, Tems. More interestingly, there is a semblance to Billie Eilish and Finneas brother-sister songwriting relationship between Ayra Starr and her brother.
But then, At the very beginning of the album, Ayra Starr douses every flame burning towards comparison by making a bold statement in "Cast (Gen Z Anthem)": "I'm gonna be who I want to be, live my life the way I wanna live, with no shame, with no haste…I heard life has no limitations but the one you make".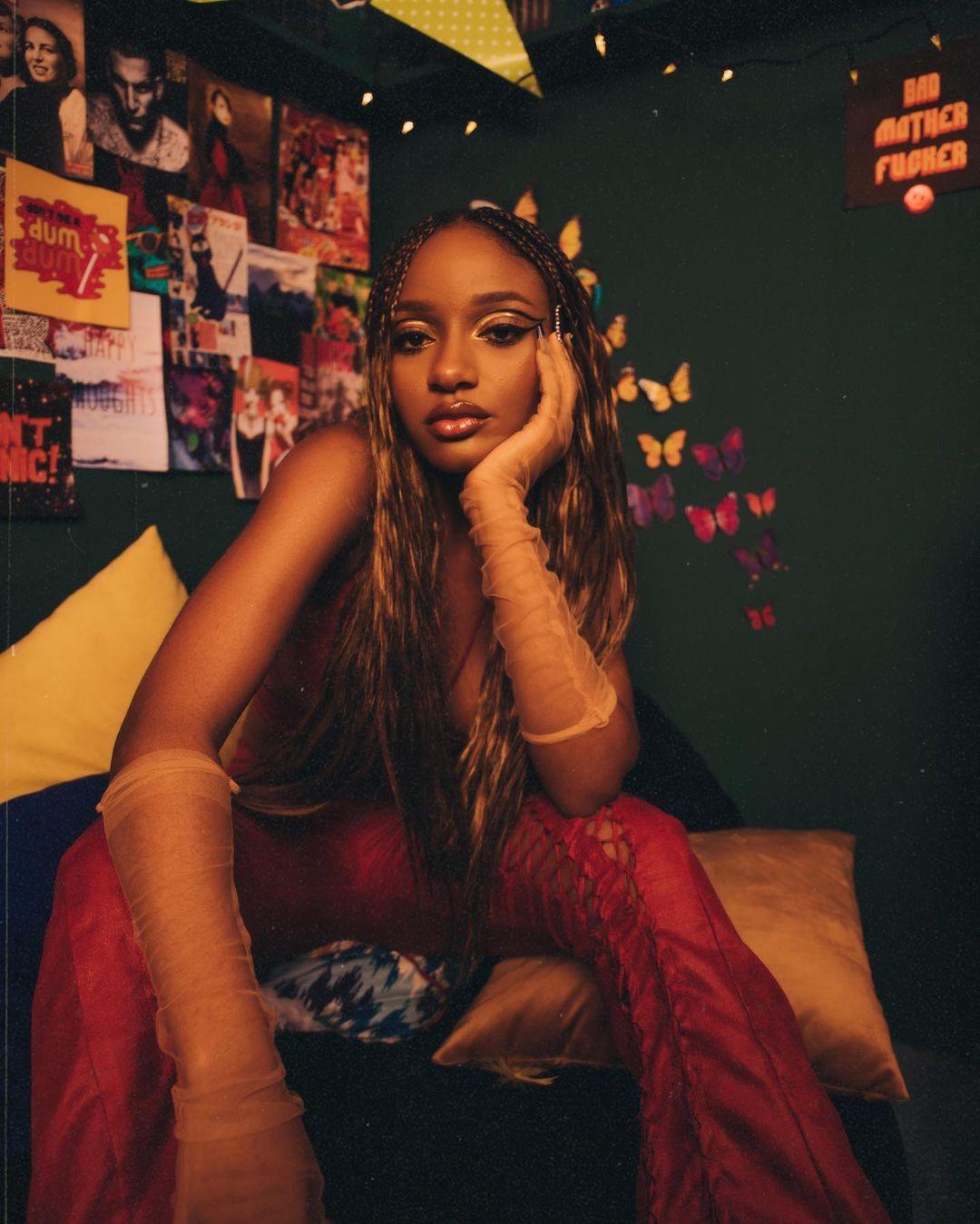 The album art reinforces the essence of the album with a chill, bad-bitch sitting position to match with the "Bad Motherfucker" on the top right corner to her confidence and the colours, pictures on the wall, butterflies hints on coming of age, mixed interest and an array of emotions. Also her fashion sense is not missing as we see in her choice of dress.
The Music
In 33 minutes and 11 tracks, displays pure artististry in her vocals, flow scheme, lyrics and delivery techniques. She deftly mixes afropop and afro r&b in a commanding and velvety voice.
Ayra begins with a manifesto (Cast 'Gen Z Anthem') and follows up quickly with identity definition in Fashion Killer & Bloody Samaritan— "I'm a fashion killer", "I'm a ticking dynamite. She also does the same on Bridgertn— a movie inspired song— in a more self-assuring tone and proclaims; "I'm the queen, bow down… break all the stereotypes, I make my rules, I break all of your rules'.
In between, she sings a love song and post-heartbreak songs, creating a perfect mix of things. For example on Toxic (originally performed on Instagram as Damage), in raw emotions she sings about the downward spiral of heartbreak and the bad coping mechanism drugs afford. In her song with Ckay (Beggie Beggie) and Lonely, she's unpretentious in how she begs a boy for affection, but then doesn't fail to recognize her self worth "me sef I be hot cake"
She goes on to wish for good tidings and happiness on 'Amin'. Here she exhibits hallmark afrobeats prowess that could be likened to what Teni did on "Were".
Overall, '19 and Dangerous' is a solid 8/10. It engenders unprecedented confidence and female liberation— a sort of Gen Z memoir that speaks on the character and travails of people of the generation.