­
Buju's Sorry I'm Late Review
By Johnson, Temiloluwa
When an artiste titles his EP, "Sorry I'm Late", you begin to wonder why he thinks he is late and what he has under his sleeves now to gain our attention for being late. What's Buju got going in his head?
After he left Spaceship records, there was an air of uncertainty around him. Buju copped this uncertainty and lined it with honesty and confidence to birth his EP.

Review; Sorry I'm late
Buju released his EP – "Sorry I'm Late" on 28th of October to all streaming digital platforms. Sorry I'm Late gives the listeners a view of his unconventional journey but comfortable sound as an artiste. Prior to his EP, he has found a name for himself and rightfully been a single sought-after artist.
You listen to Outside (his 2021 solo debut single of the year) and you instantly know he has a story to tell.  It is a solemn track that carries the thoughts in his mind in a bag, with of course the right rhythm. He got the undivided listener's attention when he got featured with Wizkid on Mood.
The storyteller artist does the same and more in his EP- seven tracks spanning for almost twenty minutes.
The quintessential and rhythmic contemporary Afro-pop musician introduced his EP with "Daniel Benson" – which is his actual name. He iterated to the listeners that his sounds and melody are on fire, and boy he is not wrong.
The preciseness in the track is palpable and cannot be missed. He reinstated who is his and made his points known. It is an attention gainer.
The next track, "Never Stopped" highlights his hurdles and beginning. He emphasizes on not stopping in giving us great music. He even claims that he's an assortment of  Burna Boy, 2baba, Khalid and Frank ocean.
When he said I sabi flow proper, it has a hint that he can rap if he decides to and the flow in this particular song is clear-cut.
Daniel's statement in Daniel Benson,  – wa jo bi Micheal jackson is evident in "Kilometre". At the beginning of the sound, you just want to "gbe" body and actually dance like Micheal Jackson. This track won't be missed in clubs, the up tempo sounds makes it the right track for clubs.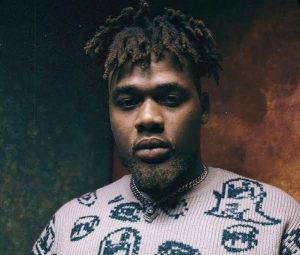 The sensational songwriter had a good play with his vocals in "Something Sweet"  and "For Here" has a love song vibe. I have a feeling it would be a love anthem soon.
"I do" has the honesty and vibe that "Outside" gives. Evidently so with the lyrics the things that bother me, you ain't got a clue. Every word in this track sends the right chills and you just have to give your respect to Buju.
Did the contemporary Afro-fusion artiste try to leave his comfort zone with this EP? While it is undeniable that he stuck to his range of comfortability in this EP, "Ogechukwu"- his collaboration with The Cavemen, sets a motion of difference in place but doesn't quite get there. However, the diverse sound of the highlife in the track is palatable.
After all is said and done, his tracklist is a connected series with applaudable deft. And yes, Sorry I'm Late isn't so late. Also, it is exactly a rhythm you'd want to keep listening to.
Verdict: 7/10.