Of course Falz is a bhad boy, what was he thinking of when he said "I dey hit am, e be steady" on All Night or "the way she ride it, I no get the car details" on Woman?
While BHAD might be hard to categorize, two themes are prevalent— sultriness & cockiness.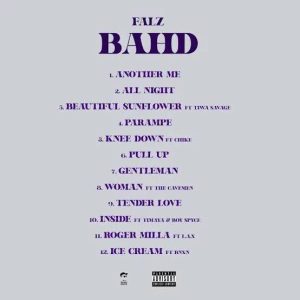 Is this the Falz we know and how good is this project?
Over the years, Falz has expressed the depth of his talent, versatility and fluidity across different sounds. Whether he's rapping alone, duetting, making Amapiano, or delivering a spoken styled performance, Falz shows that he's capable of delivering excellently across different soundscapes.
However, here we're seeing another Falz, experimenting as a singer. In the build up to the album, Falz intentionally takes his audience through a journey you'll applaud as a well-executed content marketing strategy. He tagged it #RoadtoBhad.
In about 10 episodes, he shares excerpts of the songs in the album, the thought processes and backstage works that went into making them.
In the very first content he shared in the prelude to the album, he mentioned how BHAD is an entry into a new character; a new perspective. He also hints on the anxiety he feels from working on the album— the kind that is normal to feel from trying out something new, honestly.
View this post on Instagram
So, we waited to embrace this with open minds. And I'm sure I speak for a lot of music fans when I say, we aren't disappointed. We're indeed intrigued by this execution. 
Like I mentioned earlier, BHAD is a mix of sultriness and cockiness. The very first track on the album, 'Another Me', combines both elements. In this track, Falz delivers a bouncy rap bothering on trap and a cocky hook on a piano instrumental laced with bass guitar solo that makes it feel like Rock/Jazz. Another Me hammers on Falz' uniqueness, how he is a forerunner that sets examples that others want to imitate. He also gives sassy lines on how he makes his women feel.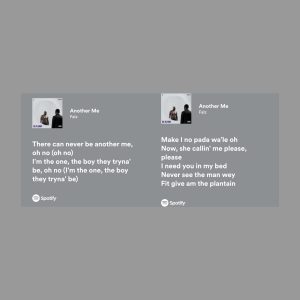 Some of the songs, to borrow Folarin's words, "represent a sound of intimacy" . Tracks like All Night, Beautiful Sunflower ft Tiwa Savage follow each other in quick succession setting a sultry tone for a moment of all things sexy.
While All Night drags in a less enjoyable manner, Beautiful Sunflower is smooth, simple, and sassy— all the elements of a bad guy. Tiwa Savage upped the flawlessness of the track with her dreamy delivery, giving the track all it needs to be a lead on song.
At the same time, you find a cocky tone in some of the tracks— the kind of time that you'll only see when you're chilling out with friends. Groove, swagger and cruise. This is evident in Parampe and Roger Milla.
Parampe is an intentional track. Executing cocky lyrics with a groovy tone in a perfect Afrobeat style isn't something that looks random. The sax instrumental and backup vocals came to bear on the blend of proverbs and witty lines that hammers on an inviolable status.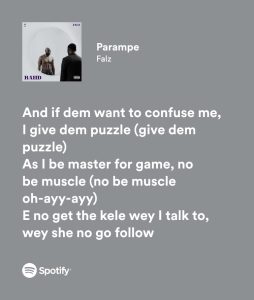 The sultriness continues in the next 6 tracks after with Knee down, Gentleman and Tender Love leaning towards a more romantic tone showing vulnerability. Knee Down especially is an exquisite tune with incredible repeat value. An insane hook with a beautiful blend of rap.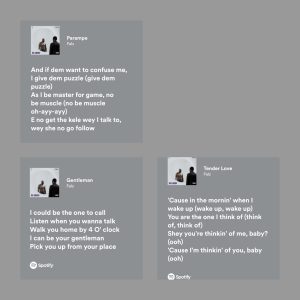 When we get to Inside, we also see a romantic Falz who employs the help of Timaya and Boy Spyce to deliver another incredible track. On this track, it becomes more obvious that the features are intentional. All featured acts came to deliver on an instrumental and a theme that seems like their stronghold. Hence, Timaya does excellently with his unique vocals and Boy Spyce delivered the most impressive verse on the album.
Overall, although BHAD is hard to categorize and it's a new style of execution, it is still enjoyable. It concretizes the fact that Falz is one artist that takes the art seriously and is intentional about excellence.