One of the most important tools that tells people about you is your artist bio. Aside from your good lyrics, a good bio sells you (talk about captivating PR)— it is an important part of your electronic press kit. It gets people hooked on why they should care about you and your music. Most importantly, good bio tells a story and gives people a reason to connect with you. 
But then, writing is hard enough let alone writing a bio. 
Now that you may not have the luxury of hiring writers to help you create that stunning artist bio, we thought we'd walk you through making one for yourself. 
Must-Haves in An Artist Bio 
There are several ways you can write your artist bio— each way serving its own purpose. However, whichever way you choose, your bio needs to form a connection with your audience even before they feed on your art.
Before we talk about these ways; let's talk about those things your bio must have. 
This is the very first thing the audience sees in your bio. As such, it's important that you make it inspiring. You want to do this in a manner that is unique to you and captivating..
E.g
"My own way of impacting is spreading and receiving love"
Aigbenoide Osariere Samuel, known by his stage name Litho Royal, is a versatile Nigerian Afro-pop artist specializing in Afro Feel-Vibe— a genre that has the power to mesmerize and cut right into the soul of the audience. 
Inspirations and Influence
It's important not to confuse these. Your inspirations might be totally different from your influences. While inspiration might only contribute to your lyrical contents, your influences contribute widely to the kind of genre you sing. For example, you could be inspired by Wande Coal and be influenced by Naira Marley. Putting this into your artist bio gives you a chance to tap into the audience of your inspirations and influences. 
With little achievements on your shelf, you want to get creative. Talk about the little wins. The struggle with your parents and how you got to convince them. Your first show. Places you've performed. A school award. Teams you've worked with. Those things also matter.
Outside your music, what are you like? You don't need to sound all professional about this. The point of this is to make your audience feel connected. They get to know you better. What do you enjoy doing? What things do you care about? Your spec? Just make it flow.
The best way to wrap it up is to make your audience anticipate. What should they be on the lookout for when they follow you? A music project? A show? Give us something to look forward to.
Now, to the main course
HOW TO WRITE KILLER ARTIST BIO
There are three ways your bio can be written: 
Social version 

Short Paragraph version 

Long Prose version. 

Social Version
This is sharp and straight to the point, it lists out the necessary points. As the name implies, it is used for social media bio. The features of this include Name or stage name, a sharp show of achievement, personality, contact details and link to websites or other online platforms.
Most times, it is less than 150 characters.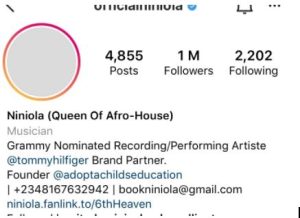 Name and nickname- ✔️ 
Achievements- ✔️
Contact details – ✔️
Link- ✔️
Let's take a look at more;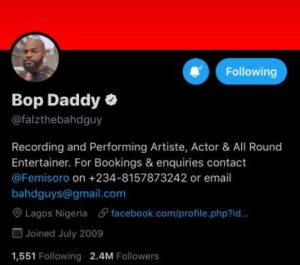 This has a location, interesting right?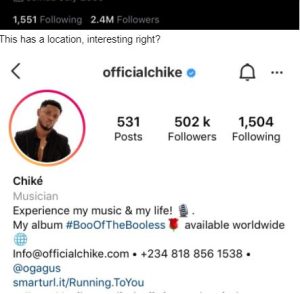 One more;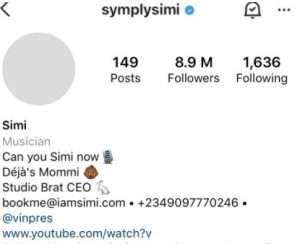 This has something different, an emoji- and you know the saying, "a picture speaks more than a thousand words"
Simi expresses who she is here and before even listening to any of  her songs, you already know she is fun and exciting. This is who she is and her sharp bio makes one want to know her content more.
Short doesn't have to be boring. Make it catchy. 
This is used for Spotify, Facebook, Audiomack, SoundCloud and other platforms. It could even be used as intro in your music press release.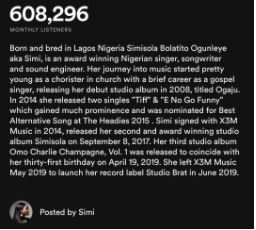 Make it fun, open and interactive. It should be between 150-300 words.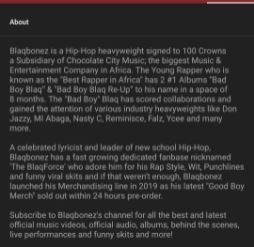 Things to include in a short paragraph artist bio
Where you're based

your name (first and last)

brand name, associated record labels and deals.

current achievements/project 

point out your values/ what you stand for

CTA (call to action) e.g Follow, Subscribe.
This is the type of artist bio that goes into your EPK, Wikipedia, and website. It is more detailed and ideally should be 400- 700 words.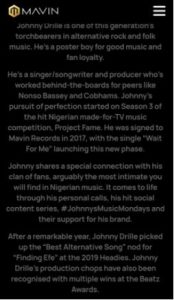 Question To Answer In Your Long Paragraph Artist Bio
Brief summary of yourself (could include birthplace) and the journey so far

When did you start developing an interest in music?

Who/what are your major influences?

What's your kind of music?

Discorography

Awards and Nominations.

What's the inspiration behind your latest project?

What are your personal interests/hobbies?

Personal life (likes, pets, children, marriage)

What keeps you busy aside from music?

If you weren't doing music, what would you have done? 

What do you seek to gain/contribute from/to the music industry?

Add humor 
Download our free template to guide your writing. 
Summary
Your bio is what introduces you to fans and music industry professionals. There should be a balance between giving too little or too much that no one wants to go further from the first line. Your fears of not being a writer are settled. After writing, be sure to get fresh eyes to help with editing.
NB: don't have a static bio. Keep it fresh. Update your bio as your career progresses. 
---
Need Help Writing a Killer Artist Bio? Click Here. 

Or contact

 @69entertainmentofficial 

on Instagram