Before hitting the music scene proper six years ago, Teni created a sensation on the internet with her covers and comedic freestyles.
Upon hitting the Nigerian music industry, her phenomenal artistry earned her the Headies Rookie of the Year Award in 2018. Since then to date, she's registered several hit singles to her name including Billionaire, Uyo Meyo, Case, Sugar Mummy, Wait amongst others.
A certified vocalist and revered songwriter, Teniola Apata has held her hone in the industry since she began in  2016. Although she's dropped a couple of EPs— Billionaire and Quarantine Playlist— it's still amazing to discover that she's just releasing her debut album after five years down the line. 
Released March 19, 2021 under Dr. Dolor Entertainment, WONDALAND is a 17-track album with a playing length of  49minute 58seconds. 
Beginning from the Album Art,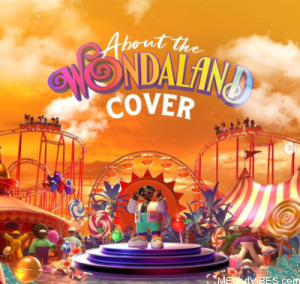 there's a quick realization of Teni's free-spirited nature. Also, the art is a representation of the artist's conception of her achievement in the music industry. The album, Wondaland, is akin to a personal diary where Teni lays herself bare in a colourful, creative, honest, and humorous manner. She relays her romantic fantasies in tracks such as Game Over, Injure Me, and Wonda Why. Tracks such as Maja, Dad's Song, Hustle, XXXL dwell on personal ordeals. In a track like Were, she exhibits an Afrocentric masterclass, which is also an inherent part of what makes her phenomenal.
maja maja maja [I'll force it open×3]
if them no open door for me 
emi a ja'lekun [I'll force the door open] 
Following a popular trend, the album kicks off with an audacious statement that discloses the artist's presence and prowess as well as vision and mission.
"…this little light of mine / I'm gon' let it shine / trouble dey there / I'm gon make it shine. . ."
Delivered in a melodic voice accompanied by a piano and rounded off by a native panegyric, Maja lays a perfect foundation for every other song on the track. 
This is structural consciousness of WONDALAND becomes more evident on the second track— the only feature on the album— For You, a single which dropped sometime in mid February. 
Aside the structural quality, the album is also resounding evidence of Teni's dexterity— her ability to deliver on different instrumentals and maintain her expertise. On songs like Game Over and Injure Me, Teni reminds us of what she did on Fargin but this time in an even better manner. Over an impeccable flow, she goes covertly X-Rated on both songs. 
FBI, Moslado, Okocha and Jo are upbeat energetic songs which are different songs like On— a distinct Amapiano sound where Teni projects herself as a helpless romantic. 
On Toxic, Teni shows a completely different part of her that we've never seen. The songs begin with a playful trap beat and adopt a highlife vibe at intermittent points. On lyricism and titling, this song passes has an 100 per cent toxic song. 
Meanwhile, Wonda Why is a close opposite to Toxic. Here, the persona isn't unstable, rather she is ready to give her all to her partner. Ready to be supportive, dedicated and selfless. 
In a conscious demeanour, Teni speaks about her personal struggles as an artist on Hustle. Success comes with a price. As Teni recounts, most time the price is paid in pressure and expectations from those around who you expect to understand you the most but will fail to. This track is reminiscent of songs like The Life of Star by Lil Kesh & Adekunle Gold and Airplane Mode by Fireboy. Being famous isn't much of a wondaland after all.
Certainly, the most conscious and touching track on Wondaland however, is Dad's Song. Born in 1992, Teni obviously didn't get the chance to build a relationship with her dad, Simeon Apata who died in 1995. She wrote the song telling him how far she's come, how happy he would have been if he was here and how he's been like an invisible guide and confidence booster for her. 
Teni infers to her battle with body shaming and how she's gone beyond what people will say.
She also closes the track with an inspirational lyric for people who are going through the same ordeal. The social consciousness and fellowship in this song stretch into the bonus track, Black, which dwells on racism, political oppression, corruption and brutality. She hammers on one central demand in the song— Freedom!
In conclusion, this album is pure magic like its name suggests. It ticks all boxes from multiple top-notch productions with Pheelz recurring more than others. Versatility in sound and lyrics wrapped in honesty and humour. Undoubtedly, the time Teni has taken to perfect her craft before putting the out makes Wondaland a masterclass debut album—a worthy template for both upcoming and established artists.