From the New Alté Boy on the block to an Afro-Fusion Maestro: A Review of Adekunle Gold's Catch Me If You Can
8 years after his debut song, Sade, Adekunle Gold has unarguably been the most transformed artists in the industry. Despite the obvious body and style transitions, he's never failed to retain the quality we know him for. From Gold (2016), to About 30 (2018) Afropop Vol 1 (2020) And now Catch me If You Can (2022); and about 108 songs in total. We've had nothing but solid works from the Afro-Fusion Maestro.
AG Baby vs. Adekunle Gold

"At Orente, I thought that I was at my peak, at Pick up, I thought that was the end, at Ire, I thought this was a fluke and along came APV1, you think the growth is shocking to you? I look at the mirror daily and I astonish myself. I can't help but be thankful to God for really being kind to me with this gift of music."
— Adekunle Gold in his newsletter before the release of CMIYC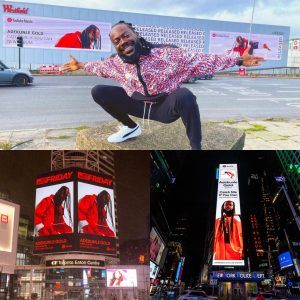 A few days after the release of Catch Me if You Can, the LP peaked at YouTube Music and stands tall on billboards in the UK and US for pedestrians and drivers to behold. A big W for AG Baby
The Album; Catch Me If You Can
Catch Me If You Can consists of 14 beautiful songs and it features some of the hot trending global Superstars like American sweetheart Ty Dolla $ign, British Sensation Stefflon Don, Malian Fatoumata Diawara, Fousheé, Lucky Daye and Afrobeats Champion Davido.
If dropping albums at two years intervals doesn't seem intentional enough, then his choice of feature should astonish you. Adekunle Gold didn't just pack an array of artists on the album. He went for outstanding, specific, up-to-the-task individuals.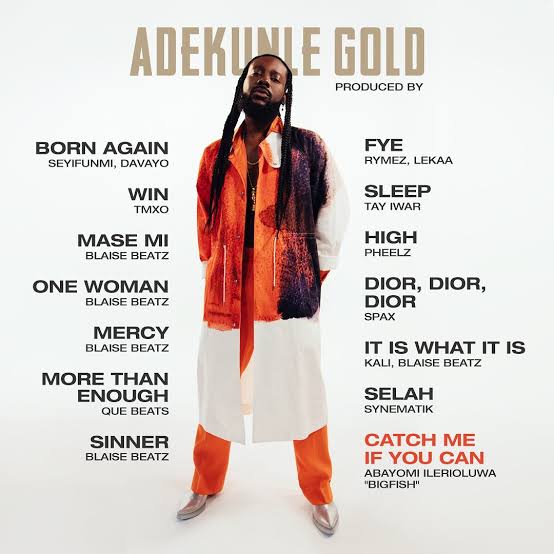 On the opening track, Born Again, Adekunle Gold seeks the help of Malian Fatoumata Diawara to begin with an entrancing African chant. The chant spreads across the track to make it sonically appealing and satisfying. Throughout the track, AG Baby recounts personal experiences and how he's changed.
He specifically mentions how much of other people's lives he lived before he realized that he needed to be reborn. You would recollect in his track, Fame, Adekunle Gold speaks on existential crisis;
"…I'm here in my own house but home seems so far…;" and how he's dealing with fame and asserting himself …". Everybody says don't change but how will I grow; I'm scared to do the things I want but people don't know…"
With this track, he emphasises that he has gone far from that new alté boy on the block, to a man of his own accord—I'm not talking Honda. He's changed and he's doing the things he wants. It Is What It Is also gives the same vibe of self-realization and high self-esteem.
"Now, I don find my voice I go talk my shit now, deal with it, i don't answer to nobody, time to live oh, na me dey run my company"
What better way to open a track? This track further strengthens the fact that despite the transition, Adekunle Gold hasn't lost touch with his penchant for African traditional representation. He also did the same on "Mase mi" where he delivers a spiritual, melodic sound beseeching the African god, "Esu". Something suitable for meditation.
"Open my eye, show me who dey for me; make i no dey pop rosé with my enemy"
The lyrics from Mercy— a teaser he'd released earlier in January— also point to AG Baby's richness of mind and touch with spirituality.
We thought Sinner's video was nasty, right? But Fye is undoubtedly the nastiest Adekunle Gold has been and look who he brought on— Stefflon Don! Nobody better.
On getting to "One Woman", you see another testament of intentional feature as Ty Dolla complements Adekunle Gold's Afrobeats sound with his rap. He makes a perfect fusion that leaves almost no trace of Ty's American descent. Just like One Woman, More than Enough also hammers on love only this time it comes with a touch of highlife. Soothing as it comes.
In the rest of the album (Catch me if you can) Adekunle Gold continues to cadence through sounds, dishing great vibes. Tracks like Dior Dior Dior, Sleep, High and Selah are a mix of melody and groove.
To wrap the album up, Catch Me if You Can, the track with the album title, is a slow-tempo yet enjoyable, unravelling track. Something like a mix of Ire and Fame. He notes how miraculous his journey has been, recounting his bitter experiences and how far he's come.
In conclusion, although there's no central theme, there's an obvious leaning towards the assertion of self. An assertion of individuality and growth. Indeed, with this album, AG Baby concretizes the fact that he's come a long way from the New Alté Boy on the block to an Afro-Fusion Maestro.
"You know I'm in demand, or you probably don't understand; Catch me if you can "
Overall, the album is a solid 8/10
Listen to Catch Me if you can here: