---
May had some really heavy singles and albums. Not like it's not like that every month. It just goes to show that there's so much Afrobeats to consume. You cannot get enough of the genre. We've chosen to review 20 from the 50+ that was released in May 2022.
Mavins- Overloading (Overdose)
Crayon, Ayra Starr, LADIPOE, Magixx and Boy Spyce. Looks illegal to have all these amazing talents under a single label. But that's what Mavins can do. Even thougj we have a vague memory of Dorobucci days, we haven't forgotten the heavy line up.
I can imagine it's too much talent that made it hard to decide whether to title to track Overloading or Overdose. They just agreed to name it both since the track itself is weighed down by the amount talents on it.
This track comes as a prelude to an all-mavin crew album featuring Rema and Johnny Drille too.
Ajebo Hustlers- In love ft Fave
I know you're still single, but this song will keep you hooked. It's the type you can use to compose a powerful pitch to your crush too.
Fave has a dreamy voice that draws you in. It's seductive
Flowed in blissful harmony with the rap verses from Ajebo Hustlers. Keeps you locked in
Kizz Daniel x Tekno- Buga (Lo Lo Lo)
This is surely one of the hardest from May. The vibe, beat and the lyrics gave it a good headstart before TikTokers made it a viral sensation.
"don't sleep; wake up" I have a strong feeling this line was directed at Tekno. Man slurred in his verses. Best in saying untranslatable things and getting away with it.
Davido – Stand Strong ft Sunday Service Choir
Davido wore his evangelist robe and went spiritual on this. And the backup from Sunday Service Choir made it slap hard.
In Stand Strong, Davido talks about his struggle and resilience, gives a subtle ode to 44 and his mum and thanks to God.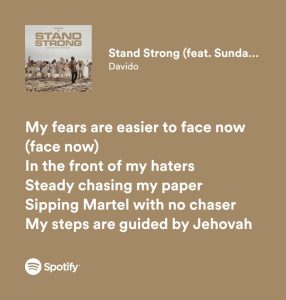 Forget whatever rival fans have to say, this track is heavy.
Zinoleesky – Loving You
Looks like the Amapiano beat was made for Zinoleesky. He just keeps killing it.
On this track, Zino samples Asa's popular hit, Be My Man
The youngster also has bagged a Headie nomination for Next Rated alongside Bnxn, Ruger, Ayra Starr and Lojay.
Crazy line up, isn't it?
Burna Boy – Last Last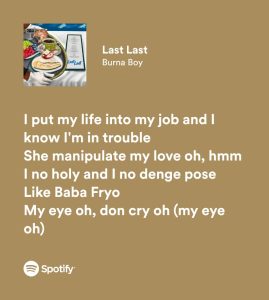 Heartbreak brings out the best in you, no doubt. If not, why will African Giant not just stick to singing instead of delving into video directing? Stefflon Don do this one. She try.
Spinall, Asake – Palazzo
Asake is another artist owning this Amapiano sound.
The beginning of this track is a typical Yoruba grandma prayer infused with street sound. The rest is just Asake flexing cadence.
But this track has suffered. Too many refixes. Even Wizkid dropped his own.



Brymo – Theta Album
Brymo is a different one. Rare is what you'll call him. He knows and he brags about it often.
He calls Theta a collection of fiction, research, and a scientific approach at retelling, and reporting of some crucial stories
The 10-track album is has a unique philosophical, storytelling and poetic approach to the delivery with tracks like Market Square, Pim Pim and Illusions sitting topmost.
Lil Kesh- Vanilla Bottega ft Joeboy
I'm guessing Lil Kesh and Joeboy got the idea for this song in a club. It's all party vibe. Flex. Drip. Swag and brag.
Bella Shmurda – Fvck Off
Fine Boy Bella comes off as someone who values hood loyalty. This track proves it. Hood loyalty is about vibe. Making money. Growing with friends. Flexing with them. No stress. Just good vibes. You feel us join us, if you don't f*CK up kind of vibe.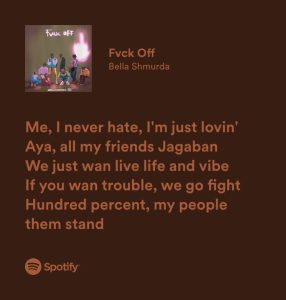 Meanwhile, someone said Bella looks to be struggling with friend issues lately. His last track has an element of it.
Omah lay- Woman
Low-key, Omah Lay is a hoe. No argument.
Not that that's what Woman is about. Omah Lay sassily expresses true love on this one.
Woman is about beautiful reckless youthful love. Loyalty. Strong bond. Obsession. And everything in between.
It's one to go on your sex playlist.
Poco Lee x Kashcoming x Wande Coal – Chop Up
Poco just wants to milk the music industry of everything he can get from it. Hyping. Dancing. Dropping intro/outro nuggets in songs. Everything amounting to a stream of income. A businessman I stan.
Meanwhile, Wande Coal brings his vocals everywhere and anywhere.
This one should make it as a viral TikTok sensation.
Ckay x Silly Walks – Maria
Ckay has a knack for creating TikTok tunes. Aside from this song being a typical Ckay-esque, it stamps the fact that Ckay knows his fans and what they like. He understands his market and what works there.
Simi – Naked Wire
There are only a few artists that sing this love songs better than Simi. It's not just the enthralling lyrics. It's the velvety voice. Soft of your body. You might be crying while listening to this as a single person. Because who's lighting your fire? Who's sparking your wire? Nobody.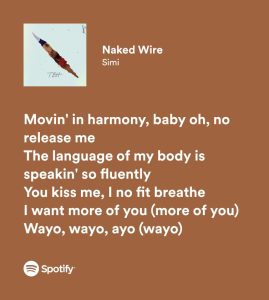 This comes as a prelude to Simi's album set to be released this month.
Lojay – Monalisa Remix ft Chris Brown
Chris Brown is ready to collect an award from the Afrobeats community. Man definately passed the vibe test on this one. He was just easing through the verse with a mix of pidgin and infusing local references.
Lojay do this one! Definitely one of the best from May.
Cohbams Asuquo – Jah Eli Jah, ft Bella Shmurda & Patoranking
Bella and Patoranking, I can imagine that. But Cohbams bringing them together? With my two eyes, I didn't see that coming. And my god, this is amazing.
Everyone brought unique voices but with a common story about rag-to-riches and praying for you enemies to see you.
You got a Thanksgiving party? Play this one as your guests are arriving. You can even use it at family meetings to shock the doubting Thomases and Thomasina in your family and at thanksgiving service.
Gabzy – At the End of the Night EP
This is one artist the industry needs to pay attention to. His writing prowess and cadence is something to look out for.
A close look at the progress of the EP, you'll see how intentional Gabzy is with his art. It's a body of work whose music direction shines through. It's not surprise that the only mid track sits at the middle of the 5-track EP.
Lyta – Flex
After his Rafat EP, Lyta drops this single as a follow up. Looks like he wants to be serious this year. It's been too much of a long break for the youngster.
The song has a lazy vibe to it. Trying to give a club hit vibe, but the title fits it just right— Flex. You'll bop. A bit of wiggle. But no lasting inspiration.
Dunnie ft Chike
Looking for a song to play when you're proposing? This is the one. Or you just want to pepper your single friends with a video of you and your partner? This is the song to add to the background. Thank me later.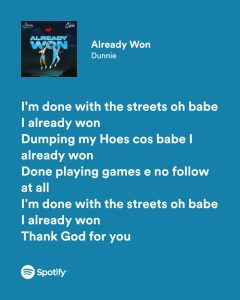 Dunnie and Chike harmonized so well on this song, you'd think they're married. But isn't that what Chike does well?
Laycon, Toby Chang – 2000
GenZs! Laycon has thrown shade at you oh. And e be like this one enter.
This sounds like a brutal track from a frustrated millenial uncle. Just pure vexation delivered in a danceable track. I'm sure millennials will love this better. Something to use during Twitter argument.
Which ones did you enjoy?
Comment with your three most favourite.