Prior to September 2022, Asake emerged amidst all the big names in the Nigerian music industry to become the epitome of a successful track. In September, he concretized himself as the standard with the release of a successful debut album— one of the greatest debut albums we've seen in the afrobeats scene. Music fans and artists wanted to see their projects topple Asake's work on the chart. The fun part? He appealed to everyone. 
However, he wasn't the only big thing that happened in September. Sound Sultan dropped an EP. Yeah, Sound Sultan!🌚 
Let's slide into details. 
Asake — Mr Money With The Vibe
Topping hypes from Burna Boy's and Fireboy's albums, as well as Kizz Daniel and Wizkid singles, Asake appears to have been ready for this success for quite a while now and evident from his lyrics— I just blow but, ọmọ I know my set— you can tell his confidence isn't a fluke.  
When you think of Street-Hop, you'll think of Olamide,  Reminisce, Naira Marley, Small Doctor, Lil Kesh, Qdot, Zlatan, Barry Jhay, Chinko Ekun, Zinoleesky, Bella Shmurda, and recently, Portable. The majority of these artists only appeal to the 'street' with a spirited sense of street identity and a staunch connection to the spirited realities of Lagos in their lyrics. Their songs are the types you'll hear blasting from speakers in the beer shanty somewhere in Isale Eko or a barber's shop somewhere in the Mainland, but not the posh Lagos Island.
However, Asake appears to be a deviation from the norm. Asake distinguishes himself as the best of both worlds. From Banana Island to Bariga, Ajah to Agege, his sound is what everyone bops to. He proved that beyond a reasonable doubt in his album, Mr Money With The Vibe. 
When he calls, both the street and the boulevard respond. Asake, like his label boss, Olamide, understands that to captivate an audience beyond the street, you must be dynamic enough to include elements that appeal to the picky people who are snobbish about anything from the street.  For example, he does this in lyricism in Terminator, shawling profanity in euphemism. Unlike artists like Naira Marley and Portable who have a keenness for controversy, Asake likens his virility to the cyborg character from that old Hollywood movie sharing the song's title. 
It's not a song with a nun's sensibility, nor is it one that is so vulgar your parents will want to put cotton wool in your ears. It's one that emulates Fuji from the 70s-90s when artists spoke subtly about intimacy without evidently breaking the bounds of the moral appellation. Whether you are a lover of elitist morality or street shenanigans, you can't help but love Mr Money.
Also, Asake subtly shows poshness in an Anna Delvey-esque way by choosing a swanky pronunciation— eye-bee-tha, rather than what a proper street person will call it. 
Liberal in his lyricism, he appeals to people from all cultures and religions – with Peace Be Unto You, Muslims find an identity to relate to, yet Christians are drawn to the sheer use of a memoiristic style of lyricism. In Terminator and Ototo he references words from white garment church lingo. In Bandana's video, he attends confession. In Dupe, he calls his listeners to "shout Halle!" While it may be tempting to assert that this is sheer hypocrisy, it is more of a revelation of the artist's dynamism. 
Mr Money With the Vibe is not only a successful debut album, but it also gives a multidimensional view of Asake, revealing both the dynamism of the artist's art and the artist's humanity. Alongside his producer, Magicsticks, he explores Afrohouse, Afro-swing, Afrobeat, Amapiano, praise singing, panegyrics, ewi (chant), showing richness, depth, range and variations.
Also in September, Asake released a snippet of an unreleased song with Tiwa Savage. 
Undoubtedly, Asake is poised for artist of the year, album of the year, and next rated. 
In preparation for her debut album's deluxe version, Ayra released two tracks Rush, and Bloody Samaritan Remix featuring Kelly Rowland.
Rush follows a similar bravado lyrics and crowd chorus style of Bloody Samaritan, making the track easily enjoyable and popular. In the week of its release, it quickly displaced Asake's Organize for a while before the number 1 man reclaimed his spot.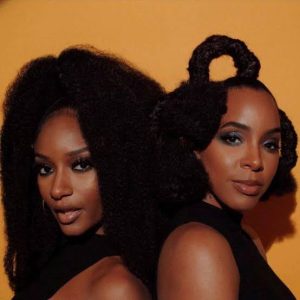 On the other hand,  just when you thought Bloody Samaritan couldn't get any better, former Destiny's Child member delivers a wordie assist on the remix with captivating vocals and smooth lyrics. Absolute masterclass!
Wizkid — Bad to Me
Wizkid on Amapiano? Didn't seem predictable. But being the defining element of the current musicscape, it's no surprise that Machala is jumping on the trend. The single also incorporates crowd vocals. Although the astonishing instrumental and catchy hook is unforgettable elements of the song, music critics didn't spare Big Wiz from fierce dragging.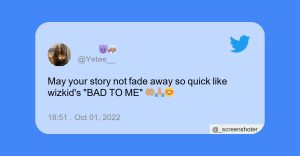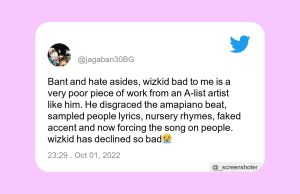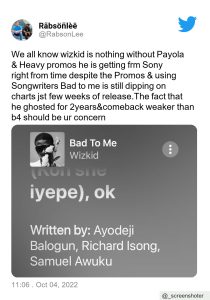 However, trust FC to be FC.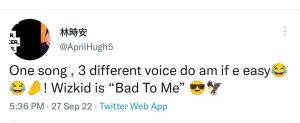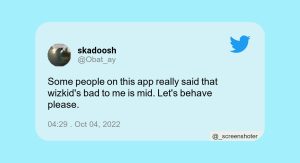 We all know the truth about the song, anyway.
Zlatan — Jaboti
After a two-year hiatus following his sophomore album, Zlatan returns with a new song, Jaboti— a rap song heavy on prosperity. The tune comes with danceable vibes and thoughtful, prayerful and positive lyrics. 
Mr Eazi – Patek 
As a follow-up to Personal Baby, Mr Eazi teams up with DJ Tarico of Mozambique and Ghanaian musician, Joey B to add to the long, unending list of Amapiano songs. Patek hits the Bull's Eye and it appears we'll be expecting a remix with Falz in the coming months. 
Sound Sultan — Reality CHQ EP
It's strange how this project isn't receiving enough hype. Not even the artists on the projects are raving about it. The graveyard silence doesn't suit the quality of the project or pay tribute to the artist. 
Even in death, Sound Sultan still does this music thing incredibly well. 
Major Lazer x Tiwa Savage et al. — Koo Koo Fun
Another A-list Artist on Amapiano receiving drags like Tiger gen instead of applauds. While the beat is catchy, the delivery appears underwhelming and fans aren't mincing words in their criticisms.😭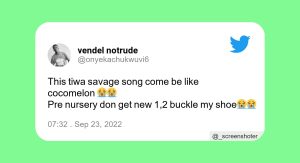 Bella Shmurda, Omah Lay – Philo  
Even if you're dead single, you'll still enjoy the lyrics in this song. The playful, yet artistic delivery from both artists make the song enjoyable. This comes as a  precursor to Bella Shmurda's album set to drop sometime later in October.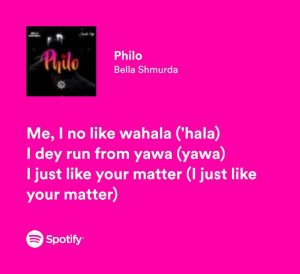 Young Jonn – Xtra Cool
Young Jonn has had an incredible run this year with all his singles hitting hard from Normally to Dada and now Xtra Cool. This song is set to top charts and become the highlight of this upcoming album set to drop this month.
Adekunle Gold, Rick Ross – 5 Star Remix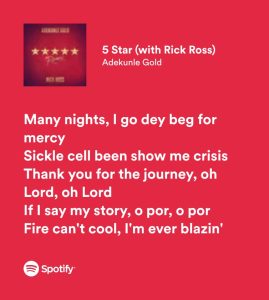 Kunle from Ikotun is truly ever blazing. What better way to remix a 5-star song than having a 5-star boss jump on it? Rick Ross added to the already amazing vibe of the song with his smooth, swaggery lyrics. 
Portable – Azaman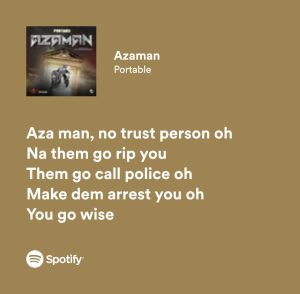 Idamu adugbo don sample Asake Organize. With the help of 2T Boys on the instrumentals, Portable carves a stern warning for the street out of his personal experience. You can hate him, but don't throw away a man's candid advice, especially when it's from first-hand experience. 😂
9ice – Tip Of The Iceberg II
Is Adigun Alapomeji back to his A-game? Maybe or not quite, but here's another project with a lot of silence around despite having raving artists such as Zlatan, Bella Shmurda, Tiwa Savage, Wyclef Jean,  and Reekado Banks on it. 
Maybe the artists did shout. Bame Asake's popularity. Probably other artists can shine this month. Blaqbonez can finally drop his single. 
Vector, Wande Coal – Mama Maradona
Whoever Mama Maradona is, she and her daughter inspired an amazing feature. Although I'm not sure I get the point of the song, I enjoy Wande Coal's vocals as always and Vector's rap has a way of being captivating.
Ckay Sad Romance Album
Although performing well on the charts and even being Apple Music Album of the Month for September, Ckay's album was also on the quiet side of last month. Again, blame Asake. 
The array of tracks on the album deftly embodies the album title. More captivating is Ckay's gloomy vocals that put sadness in the songs. Incredible!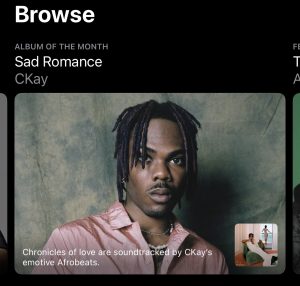 What did we miss?
Tell us in the comments what else happened in the afrobeats scene in September that you know about.