Have you ever wondered what club houses looked like in the 1930s or 1960s without Afrobeats? No Wizkid. No Naira Marley. No Adekunle Gold. No Burna Boy No Rema. No legwork. What kind of music were people listening to then? In this article, we'll talk about the history of Nigerian music. How did we get to Afrobeats? What was in vogue before Afrobeats?
look at these images…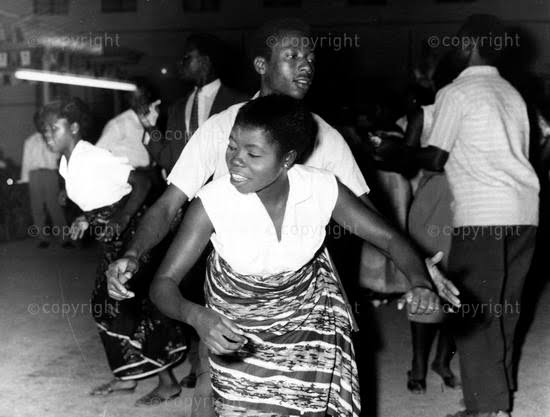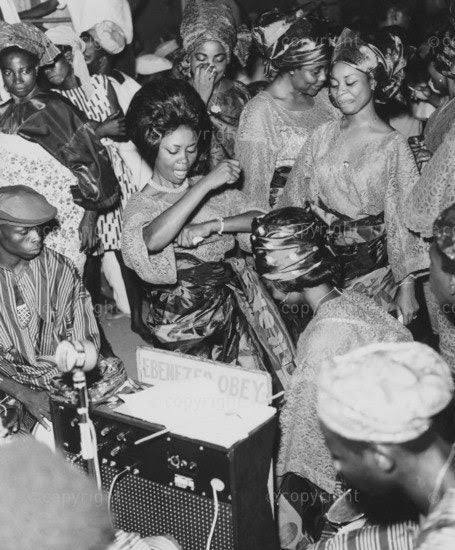 These were between the 1950s-1960s. Looks like people were having a nice time. Which dance moves were these? Row your boat? What could they have been dancing to?
The truth is, music is and has always been an integral component of Nigerian culture. Traditionally, music was mainly for functional purposes as it was an indispensable part of ceremonies in Nigeria. For every occasion— funerals, naming ceremonies, weddings, agriculture— there was a song. Nigerians too like the song. These songs were accompanied by different instruments in different cultures.
For example, among the Yorubas in southwestern Nigeria, the dundun also known as iya ilu (hourglass tension drums), gangan, bata and gudugudu were popular music instruments. Among the Igbos of the southeast are obo (zithers), lutes, flutes, xylophones, and udus. These instruments were vital to the development of nightlife in Nigeria. Those were the party rockers then.
The Kakaki and Goje were also important instruments among the Hausas of Northern Nigeria. These cultural instruments and indispensability of music seeped through every facet of the Nigerian tradition. As such several genres grew as the society came in contact with other genres from outside Nigeria.
Today, there are several internationally enjoyed and recognised genres of Nigerian music including Highlife, Juju, Apala, Afrobeat, Reggae, and Afrobeats.
Let's get into a bit of history.
Popular Genres of Nigerian Music: Life Before Afrobeats
Palm Wine Music
The earliest known genre of music in Nigeria was the palm wine music which originated around the 1920s from an interaction between the Yorubas, especially Lagosians, and returnees from South America. Babatunde King is often credited with the naming of this genre because of the popularity of the genre in local bars to serenade palm wine lovers and the acclaimed intoxicating effect of the song.
The genre, consisting of often upbeat songs, was a mix of Nigerian folk music and musical techniques from Brazil and Cuba. Songs from the genre were accompanied by guitars, tambourine, shakers and traditional drums like the iya ilu.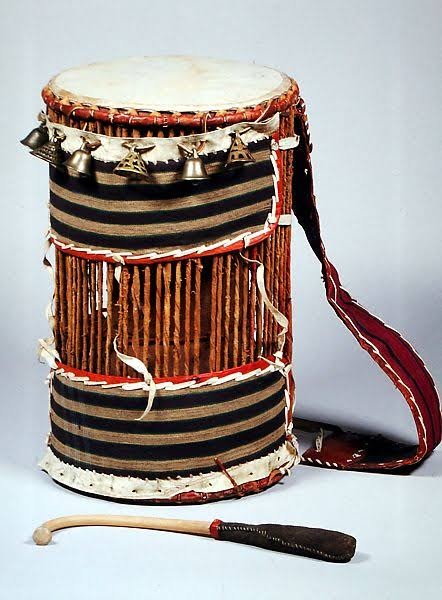 Other popular artists of this genre included Tunde Nightingale, Akanbi Ege, and Ayinde Bakare. Today, Show Dem Camp are reviving the atmosphere of palm wine music by infusing the tone in their songs and curating palm wine music festivals where people come to drink palm wine and enjoy music.
Juju
By the 1950s, jùjú (translated as "to throw something") had become a recognised and evolving genre in Nigeria. Its creation is also credited to Tunde King in the 1930s. However, after the Second World War, Tunde Nightingale interwove the jùjú music with westernized pop and popularized the genre by praising dignitaries at social parties.
The genre's name could be attributed to the influence it had on how people energetically moved their bodies. Also, dancers in jùjú performances wore beads on their hips which were usually shaken during the dance.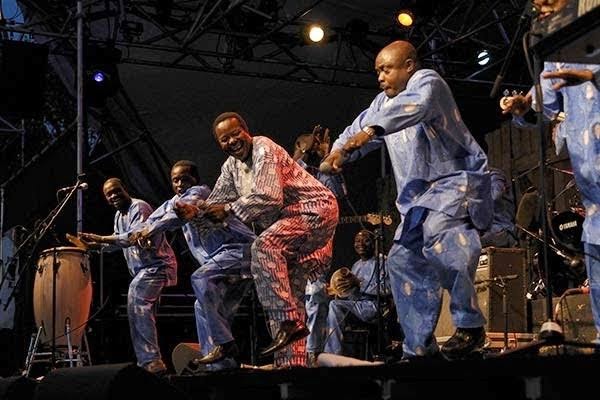 Jùjú music evolved with technological advancement in the late 1950s and 1960 to feature the use of Jùjú music electric guitar, accordion, synthesizers and vibraphones. It thus became the earliest genre of Nigerian music to be popular outside the country making King Sunny Ade, a popular Jùjú musician, the first Nigerian to receive a Grammy Award nomination in 1983.
Also, Chief Ebenezer Obey mixed the genre with Highlife. He shifted the focus of his juju music from social to more religious lyrics. Similarly, Sir Shina Peters incorporated Afrobeat into the juju music to create AfroJuju in the late 1980s.
Apala
At the time when jùjú music was making global waves, Apala (or Akpala, Àpàlà) was also popular among the Yorubas. The genre started alongside wéré music both developed among the Yoruba Muslims, originally as wake up songs during the month of Ramadan. They soon evolved to become a cultural resistance of the British Empire's colonial rule over Nigeria and subsequently to a social song of praising influential people.
The Apala genre is accompanied by the Agidigbo (thumb piano), a rattle and a bell and performed in a call and response vocal style. Some of the earliest popular practitioners of this genre included Haruna Ishola, whose vocals were sampled in a song by Veronica Vega and Quavo in 2019; Yusuf Olatunji, Ligali Mukaiba and Ayinla Omowura.
Fuji
In addition, the Apala and Wéré genres became the base for Fuji music created by Alhaji Sikiru Ayinde Barrister who heavily promoted the genre in Nigeria, Europe and North America. The Fuji music is a mix of Apala, Wéré and Juju, employing the peculiar ajisari voice alongside sakara drum and Hawaiian guitar.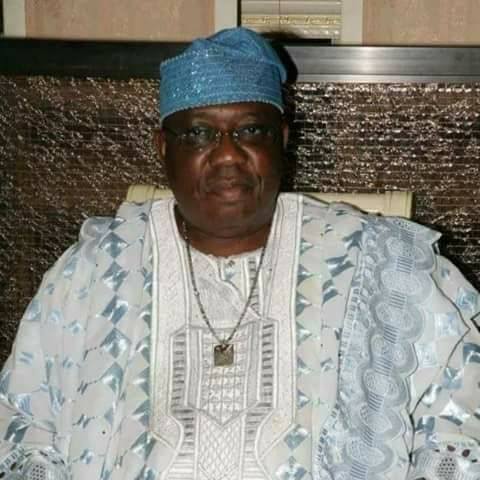 Although the genre was a male-dominated genre like most others, it had another version known as wákà, popular amongst women. Some of its contemporary practitioners include Wasiu Ayinde Marshall, who modernized the genre; Saheed Osupa, Adewale Ayuba, Pasuma, Obesere, Salawa Abeni amongst others. The fuji music genre is more popular and has endured more than those it took inspiration from. Hence, today, artists like Keziah Jones, Olamide, Dammy Krane, Terry Apala and small doctor make music influenced by the aforementioned genres of Yoruba music.
Highlife
Unlike the forenamed genres more popular amongst the Yoruba than other tribes in Nigeria, there is the Highlife music genre mode popular among the Igbos. Highlife emanated from Ghana and flowed into Nigeria through the popularity of Ghanaian performers in the Nigerian social scene and nightclubs. Also known as native blues, the songs of the genre are rendered in Pidgin English and local language alongside brass, woodwind, drums and guitar.
In contrast to folk music, Highlife dwelled on mundane themes such as love, death, praise and insults. Nigerian highlife music pioneers include Bongos Ikwue, Oliver de Coque, Cardinal Jim-Rex Lawson, Dan Maraya from middle belt region of Nigeria, Onyeka Owenu (a female), Victor Uwaifo, Prince Nico Mbarga who sang one of the most popular highlife music, Sweet Mother.
Today, Nigerian artists like Flavor, Duncan Mighty, J Martins and The Cavemen perform music in the highlife genre.
You can tell from what's been said so far that the earliest genres of music in Nigeria were continental— either homegrown or adopted from another African country. However, there were other genres that borrowed original influences from outside Africa such as Afrobeat and Reggae. Reggae, originally from Jamaica, did not thrive much in Nigeria, but some notable practitioners such as Majek Fashek, Ras Kimono, RagaMuffin, Daddy Showkey did leave some legacies behind for young artists like Burna Boy, Cynthia Morgan and Patoranking incorporate influence from the genre into their style of afrobeats.
The Immediate Father of Afrobeats: Afrobeat
Although it originated from Nigerians, Afrobeat took its major influence from Jazz, a genre of music developed by African Americans from a mix of African rhythms and European harmonic structure. Afrobeat is a potpourri of funk, jazz, highlife, and other west African styles.
While some other artists such as Tony Allen and Orlando Ekemode are seldom credited for contributing to the development of the genre, Fela Anikulapo Kuti is regarded as the father of Afrobeats.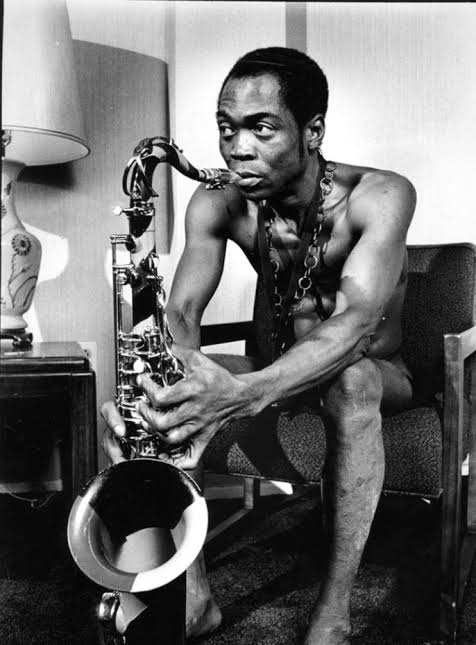 His space, the Kalakuta shrine was the hub of Afrobeat from where he performed music targeted at the injustices and corruption prevalent in Nigeria. After his death, the shrine began to be in disrepair but was rebuilt by his children in 2000 to preserve his legacy.
Today, Fela's music is studied around the world and his genre of music is credited as the predecessor of afrobeats. Hence, afrobeats artists pay homage annually to Fela's legacy at the Felabration, an annual music festival. Interestingly, afrobeats artists regard a performance at the Felabration as a defining moment in their career as they regard it as an induction into the Nigerian music industry.
You never perform for felabration, you dey claim Nigerian artist. Are you__
The New Oil: Afrobeats
Originating in the late 1980s, Afrobeats is a mix of different West African styles with hip hop. It is the contemporary mainstream Nigerian music also referred to as 'Afrofusion' or 'Afropop'. The genre became popular in the 1990s, thanks to radio and television stations and earlier labels and practitioners such as Kennis Music, Remedies, Tribesmen, and Plantashun Boiz.
The genre has grown from a local sound to a global one as Wizkid, Burna Boy, Tems, Asa, Tiwa Savage, MI, Yemi Alade, Davido, Dbanj, Tuface, lead the movement of putting the genre on the global map. Artists like Wizkid, Burna Boy and Niniola have all been recipients of Grammy certificate of nominations with the former two clinching Grammy awards amongst other numerous international awards.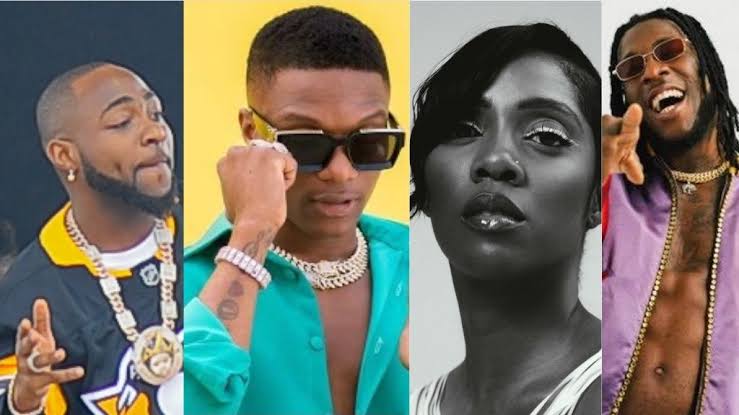 Themes from the genre revolve around love, lust, personal awareness, wealth, heartbreak and socio-politics. Globally-renowned artists like Snoop Dogg, Justin Bieber, Drake, SIA, Ed Sheeran and Beyonce have collaborated with afrobeats artists.
In conclusion, the Nigerian music scene is rich with content and diversity in genre. It's not an overhype to say Afrobeats is the new oil in Nigeria. The Afrobeats genre is also evolving as it incorporates new sounds and Alté sounds from younger generations of artists. Artists like Fireboy, Rema, Odunsi, Wurld, Omah Lay, Ckay, Victony, Buju, Santi bring new infusions to the genre that appear to be definitive for the genre.
Who's your favourite Afrobeats artist?
Comment and share if you found this insightful.